<![if !vml]>
<![endif]>
Marjorie King Studio™
Nature Theme Clay Art Pottery and Sculpture™
Award Winning Fine Gifts and Home Accessories Since 1976
608.832.6455
Email: marjorie@MarjorieKingStudio.com
www.MarjorieKingStudio.com and www.ClayArtCremationUrns.com
Click Here To See Photo Gallery
ABOUT THE ARTIST
"One touch of nature makes the whole world kin."
-- William Shakespeare –
Marjorie King is an internationally known clay artist specializing in award winning, hand made, one-of-a-kind, nature theme pottery. She has been making her Clay Art Pottery™ in Mount Horeb, Wisconsin for over 38 years. Her work has been featured in over 150 art shows, 32 galleries and museums with work in 27 states and has been sold internationally to collectors in 28 countries since 1976.
Over 5,000 patrons have collected 23,000 pieces of her artwork, including private collections in the United States, Europe, Spain, France, Italy, Ireland, England, Scandinavia, Malaysia, Iceland, Australia, New Zealand, China and Central and South America. Her pottery has been become a favorite of private collectors and businesses for event centerpieces, honor and award ceremonies fund raisers, commemorations, bridal registries, weddings, special occasions, gifts, and corporate architecture. Her specialized lines of functional pieces are favorites of architects, memorial directors, wine connoisseurs and interior designers for vessel basin sinks, cremation urns, wine bottle holders and fine home accessories.
ABOUT THE POTTERY
Clay Art Pottery™ is wheel thrown and decorated with hand built additions in kiln fired clay made from leaves sculpted into clay using a 14 step proprietary process developed over 38 years. No other clay artist has successfully mastered this technique anywhere else in the world. It takes about 15,000 hand strokes to finish the leaves on an average piece and as many as 50,000 hand strokes for a Signature Piece.
The clay art works are either limited edition, or one-or-a-kind signature museum quality collectible originals. Each piece is unique. All pieces are individually signed by the artist.
Inscriptions, gift certificates, and personalized gift cards are available. The Marjorie King Studio ships worldwide in Signature gift boxes. Marjorie King Studio artwork has been selected by the State of Wisconsin to bear the "Something Special From Wisconsin" State Gold Trademark Seal. Signature availability is limited. Private commissions are 2 to 12 months on a reservation list. Bronzes are 8 to 24 months.
Leaves, grapes and nuts appear dried, blown and nestled into Clay Art Pottery™. They are made in kiln fired clay from real white, red and burr, gambrel and black oak, silver and Norway maple, black walnut, elm, catnip, ginkgo and grape leaves and vines. Each work also incorporates the appropriate seedpod or fruit. The glazes are hand made by the artist using formulas and processes unique to the Studio. They reflect the earth: the soft green of southwest pines; the blue hews of the sky; the speckled cream of wheat fields and the browns of dried autumn leaves.
Marjorie has begun a new series of work with a feminine theme in both porcelain and stoneware. The "Sisters" series has become one of designers and clients' new favorites. New formularies of glazes in coral, purple and turquoise are used in these clay art works as well as the blue and green.
Since the last web update in 2006, copper is incorporated into some of the designs and there are clay art creations with cats and dogs. Roosters are coming soon.
The work is both functional and decorative including some styles not sampled here in the photo gallery. It includes but is not limited to: bowls, plates, platters and trays, sugar and creamer sets, salt and pepper shakers, jars, teapots, candleholders, candy dishes, vases, wine bottle coasters and goblets, clay baskets, soap dispensers, utility pots and cremation urns for both pets and people. For more samples of her cremation urns go to: ClayArtCremationUrns.com. Sizes of her work range from just a few inches to 20 inches. Wall installations can be larger. Bronze is an occasional limited edition on signature pieces. Vessel basin sinks and cremation urns are available individually as originals or as reproductions through proprietary licensing arrangements.
Click Here To See Photo Gallery
AWARDS AND EXHIBITS
Marjorie King's Nature Theme Clay Art Pottery has won First Place, Blue Ribbon and Best of Show in many juried exhibitions including a First Place at Wisconsin Public Television's Art and Antiques Exhibition (see photo below). She is a professional juried member of the Wisconsin Visual Artists. Her work has been exhibited and collected nationally and internationally by patrons and galleries including The Wisconsin Arts Board; The American Players Theater at Frank Lloyd Wright's Taliesin; The Morton Arboretum in Illinois; Red Oak Pottery in Door County; The Seippel Homestead and Center for the Arts in Beaver Dam Wisconsin; Life Reflections Gallery in Idyllwild California; The J. Paul Winery in California; Penny Lane Gallery in Rhode Island; Wapato Point Wine Cellars in Mason Washington; Linden's Gallery of Ellison Bay in Door County; the University of Wisconsin Arboretum; Sorrayah Studios Gallery in St. Paul Minnesota; Stone Fence Gifts at Hilldale in Madison, Wisconsin; the Kaleidoscopes Gallery in Mount Horeb; the Richard C. Anderson Gallery at Land's End; the Charles Allis & Villa Terrace Museums of Art in Milwaukee Wisconsin and has won the Mount Mary College of Art Faculty Award for Art of Special Value.
Marjorie's work has been selected by National Public Television; NBC TV News; the US National Cultural Arts Tour; "Best Ceramic Artists of America"; Invited to appear on Public Television's Biography Show hosted by Joan Lunden; the Wisconsin Arts Board; Wisconsin Trails Magazine; Madison Magazine's Best of Madison; the University of Wisconsin Art Center; The Wisconsin Education Association; CUNA Mutual Insurance Company; Anchor Banks Inc.; the Madison Capital Times Newspaper; The Wisconsin State Journal - feature articles; ANEW Magazine; Inspire Magazine, Madison Magazine; Isthmus Newspaper; Something Special From Wisconsin's Chicago Tourism Exhibition and Portal Wisconsin in cooperation with the Wisconsin Academy of Sciences, Arts and Letters, Wisconsin Arts Board, Wisconsin Historical Society, University of Wisconsin, Wisconsin Humanities Council, Wisconsin Public Radio, Wisconsin Public Television with funding provided by: National Endowment for the Arts, the Future Fund of the Corporation for Public Broadcasting and the UW Extension Cross Divisional Program Innovation Fund.
Her awards include Best of Madison, Best of Wisconsin, and Best of American Clay Artists.
FIRST PLACE IN PUBLIC TELEVISION ART AND ANTIQUES AUCTION AWARDED TO MARJORIE KING
Wisconsin Public Television has awarded local clay artist Marjorie King first place in its Art and Antiques Auction. The Auction is a fundraiser for Wisconsin Public Television (WPT). Marjorie King has been selected as the Public Television's Commemorative Artist for 2007.
The announcement was made at the University of Wisconsin Memorial Union Gallery where 170 pieces of art donated by invited Wisconsin artists for the WPT Auction were exhibited and juried. The art on display included pottery, ceramics, glass, oil and watercolor paintings, lithography, serigraphs, pencil and ink drawings, photographs, sculpture, origami, paper and fiber art, metalwork and woodwork.
The vase pictured below received 14 bids in less than one minute and won the Public Television First Place in a juried auction.
<![if !vml]>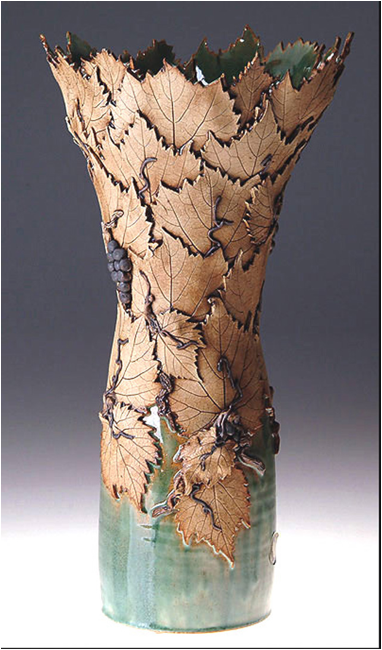 <![endif]>
Click Here To See Photo Gallery
AVAILABILITY, PRICING, GIFT BOXES,
PERSONALIZED GIFT CARDS & SHIPPING
<![if !vml]>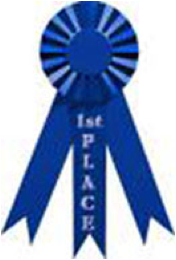 <![endif]> <![if !vml]>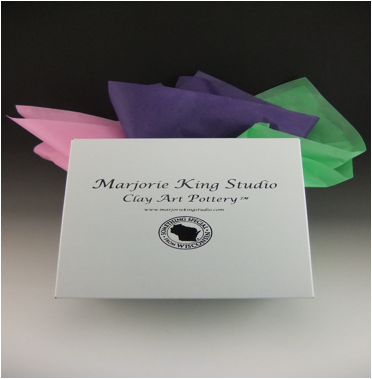 <![endif]> <![if !vml]>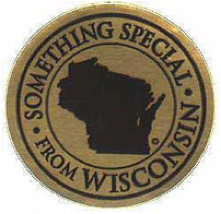 <![endif]>
The Marjorie King Studio gift-wraps and ships worldwide in Signature Gift Boxes via USPS, UPS and FedEx. Personalized Gift Cards and Gift Certificates are also available. Her artwork has been selected by the Wisconsin Department of Agriculture, Trade and Consumer Protection as a Something Special From Wisconsin Artist. The artwork makes a perfect Something Special from Wisconsin gift for people in other states and countries. Prices range from $50 to $5,000 and average about $250. Prices are unique to the time and difficulty involved in creating each piece.
Pieces can be purchased over the Internet as well as directly from the studio. In-stock images can be emailed via the Internet and then purchased over the telephone. The images on the web site are samples. Clay Art Pottery is available in a variety of leaves, colors and sizes.
A few special orders and commissions are accepted each year. There is a very high demand and each piece is very labor intensive. There is a waiting list for some pieces of about one year. Signature limited editions in bronze are commissioned on the Studio's reservation list and begin at $3000. The limited edition bronze reserve list is about two years.
<![if !vml]>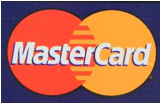 <![endif]> <![if !vml]>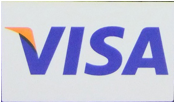 <![endif]> <![if !vml]>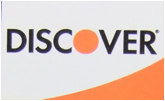 <![endif]>
Contact Information
For a studio appointment or to visit the studio or to ask Marjorie what is currently available in-stock or to receive images of available in-stock clay art or to be added to the studio show mailing list or to the limited edition private reserve waiting list or for any other questions, comments:
Telephone: 608.832.6455 (leave message)
Email: Marjorie@MarjorieKingStudio.com
EXHIBITIONS, INSTALLATIONS
To arrange a public, private or corporate display, opening show, exhibition or installation or to arrange for donations to charitable or civic fundraising events, contact the artist representative:
The Madison Group
Email: ClayArtPottery@madisongroup.us
Click Here To See Photo Gallery
TESTIMONIALS FROM AROUND THE WORLD
Fabulous! - Shel O'Hare, Wisconsin Arts Board
My Mom cried when she received your bowl. - Jennifer Bassett
Your pottery is truly blessed. You have God's talent. - Sister Michelle
I've been looking for you since I bought my first pottery piece 15 years ago. - Susan Baillie
I am bringing your pottery to Denmark as gifts for my relatives. - Carol Nielsen
I held your bowl in my lap on the plane all the way to Sweden. - Connie Gower
Your pottery is just beautiful and reflects nature. We will treasure it when we take it back home with us to Hong King. - Sue and Tanya Tang, Hong Kong China
I am a pottery collector. I have never seen anything like this in the whole world. You take my breath away. I cried when I saw your signature pottery. - Nila Weldon, Greensburg Pennsylvania
This is the most unique pottery I have ever seen anywhere. - Mary Brady, International Art Instructor, United States Air Force Base International High School Ramstein, Germany
Thanks for creating such lovely pottery...you are my Santa Claus and bring me the most special gift this year! – Grace Lee, British Columbia
Your work is the essence of beauty and my image of wonderful pottery!! - Betty Mellor
It is amazing to me the talent that some are born with. Thank you for sharing your gift with others. - Sincerely, Ann Marie Dutra
This is the most beautiful pottery I have ever seen! You have brought joy to thousands of people. Just to gaze upon your art brings a sense of wonder. You are truly amazing. Bless you and your gift. - Lisa Dusenberry, Springfield Missouri
You definitely have a new fan in Kentucky! I absolutely adore my new green bowl! – Rosemary Kendrich
Tonight was my first time in viewing your work; the delicacy in your sophisticated, realistic style moved me. Debby Strasser, Port Richey, Florida
I think your work is worthy of 1st place- truly creative, very beautiful; an expression of nature's beauty, and you put your heart and soul into each piece. - Holly Bartholmai – Seippel Homestead
As I'm sure you have been told hundreds of times before, your work is absolutely INCREDIBLE! I was in awe of your talents as I viewed the pieces shown upon your site. - Lora Wakefield, Clinton, NJ
Your pottery is just beautiful! - Patti Weber
The wine coaster was wonderful. My parents loved it. We used it for Christmas dinner and it stayed on the table after everything else was cleared. Thank you again for such a wonderful gift for my parents. - Jo Spear
The cremation urn you made will be a meaningful resting place for my dog's ashes. - Ralph Hansen
Your pottery is just beautiful. I am a high school art teacher and accidentally found your site. - Sandy Barstow
Your pottery is very beautiful and would be a huge hit in Colorado. - Clint and Tamra Shiflet
Your pottery is unique! – Jolie West-Delzeit, Grand Junction Colorado
We love your pottery. – Sheri Treadwell, Knoxville Tennessee.
I first learned about your work in the March/April edition of Wisconsin Trails magazine. I would love to start adding your work to my new home. - Carol MacKenzie, Germantown Wisconsin
I love your pottery. It is fabulous. - Sheila Wayne, Hastings Minnesota
Stunning art. My family name is Leef and my sisters, mom & I all love art and the Leef motif. - Cathy Kebbekus, Milwaukee Wisconsin
The quality of the objects d'art here are unsurpassed. - Lindens Gallery - Ellison Bay Chicago Life supplement to the NY Times
I was totally amazed at the uniqueness and beauty of your work. - Patti Pogan, Lake Tahoe, Tahoe City California
Thank you for taking time with us to see your studio and share some of your magnificent work. Your work is truly an artistic quality. - Nancy Lerner, Cross Plains, Wisconsin
Thank you for a magical experience. Your fullness of heart and enthusiasm touched me, as well as the spectacular beauty you create -- truly manifesting your inner spirit. - Kathleen May, Mount Horeb, Wisconsin
Your pottery is truly amazing and I am so excited to have it in my shop. - Tammy Smith, North Providence, Rhode Island
Your work is grand! I love your work, and when I am at the gallery, everyone who comes in goes to your work first. - Judith Morton, Idyllwild, California
Mount Horeb clay artist Marjorie King's FABULOUS ceramic bowls with her signature leaf rim of clay leaves are also perfect containers for holiday meals. They're on display at the Wisconsin Arts Board gallery. - Linda Brazil, Lifestyle Section Editor of the Capital Times Newspaper
My passion is for nature and my admiration for your pottery inspired by it. Your pieces are absolutely gorgeous! In fact, I am going to display them in my living room rather than put them in my kitchen for functional use. They are more like museum art collection in my opinion! - Grace Lee, British Columbia, Canada.
I found you on the Internet when I was looking up Wisconsin potters. I'm originally from Superior Wisconsin and I currently live in Katy, Texas. I always look at well-done pottery. I'm very fond of the Warren Mackenzie style of ceramics, but only have a few of his pieces. I'm also very fond of wines. My compliments on your pieces. - Steve Uchytil, Katy Texas
I have shown your bowl to everyone and the comments are in the awe category. - Mary Brady, United States Air Force, Ramstein Germany
What a nice surprise! Just in time for the special holidays. The basket is out of this world...it's gorgeous! There were so many compliments. These new pieces will certainly turn heads when they arrive here. Thanks for creating such lovely pottery...you are my Santa Claus and bring me the most special gift this year! Have a Merry Christmas and Happy New Year! - P. S. Please keep me on your mailing list whenever you have new ginkgo items. I think I am addicted and becoming a Marjorie pottery collector! - Grace Lee, British Columbia
It's simply beautiful. You're blessed with your talent. It says a lot of a kind of person you are. I can feel peace looking at your work. I'd love to learn and create like you do. May be one day I'll be able to show my art like you. Thanks Marjorie! - Gladys
I recently had my book club meeting here at my house, and one of my friends went absolutely gaga over the pieces of your pottery that I have! - Peggy Traver
My favorite memory is lying on my pony's back while we walked through the woods. I could smell the leaves mixed with her sweet smell and listen to the trees rustle above. Everything was right with the world. Your pottery reminds me of that. I didn't notice the effect of those pieces until I got to the end of the photo gallery and was smiling the same smile you get from a good hug. How special is that? - Miki , Leetonia, Ohio
Your pottery is beautiful. I am interested in a cremation urn. My husband died recently and I want to purchase a container to hold his ashes that would do justice to him. He was a unique man and traditional urns are just not making it for me. Someone once told me that there is no such thing as a coincidence. I believe I was supposed to come upon your web page. Thank you for being there. My husband will have a beautiful urn. He would approve. It was very nice talking with you tonight. I appreciate you taking time with me. The urn is a perfect tribute to my husband. - Name Withheld for Respect
The three cremation urns you made for my ashes will be treasured by my daughters to remember me after I am gone. The request for my urns are in my will. - Name Withheld For Respect
Tonight was my first time in viewing your work; the delicacy in your sophisticated, realistic style moved me. - Debby Strasser, Port Richey, Florida
Margie: Thank you so much for offering to make an urn for our dear little tabby, Fluffy. I'm enclosing a picture of Fluffy and me. Thank you from the bottom of my heart for doing this for us and for her. - Name withheld by request
Whenever I need something special I always think of you.- Cheryll Carden, Indianapolis Indiana
I just came across your website and am enchanted! I have been collecting hand-crafted pottery for years, but none that I have match the beauty of yours! - Jackie Burchum, Camden Tennessee
All your work is simply breathtaking! I am an artist myself. I have seen a lot of pottery and have always loved the medium, but you...you are a Great Master - Lisa Dusenberry, Springfield Missouri
I just saw your pottery for the first time last week--and--wow!!!!! - Gerald, Texas
This work is exceptional! - Ginger Scholz, Anew Magazine
Amazing! - Inspire Magazine
Your pottery is just gorgeous! - Gary Wegner, Mt. Horeb, Wisconsin
Your Grape Leaf Vase is stunning! - Gwen Gillen, Vanguard Sculpture and Bronze Services
Thank you Marjorie! We just can't tell you how much fun it was working with you! You have made the process as special as the present itself! - Elizabeth Wistrom, Brookfield Wisconsin
I have NO MORE ROOM for pottery, but that doesn't mean I don't want some more! - Marilyn Gardner, Wisconsin
What a spectacular FEAST for the arts you're putting on! From the pictures, you have completely outdone your "usual" self, innovating in clay art to indulge everyone (including YOU)! I'm so impressed! – Carol Seeger, Racine Wisconsin
The slides of your pottery wowed our jury! - Sarah Haberstroh Stauder, Charles Allis/Villa Terrace Art Museums
I am soooo delighted that you shared some of your planned projects with Sandi, Norm, and me earlier... I can inject that vision into your small photos which only begin to show your grand talent, and I can shout from Racine to Mt. Horeb: "Hurrah, Marjorie! Great works! You GO, girl!" I'm sooooo proud and awed of you!...and happy to be your soul sister! Carol S.
POEM FROM MARJORIE'S SOUL SISTER
I absolutely LOVE the sugar/creamer/tray,
Tea services and pots;
Your smug cats and fashionable ladies,
Vines and lines of leaves and acorn dots.
Oh my!
Tall, copper-accented vases, platters, and
Lamps to light them by!
Oh my!
Your minis are major.
Your weed pots give walls a flavor.
Oh my!
Imagination!
Inspiration!
Creation!
Ovation!
Oh my!
Oh my goodness
Click Here To See Photo Gallery
THANK YOU FOR VISITING MY WEB SITE